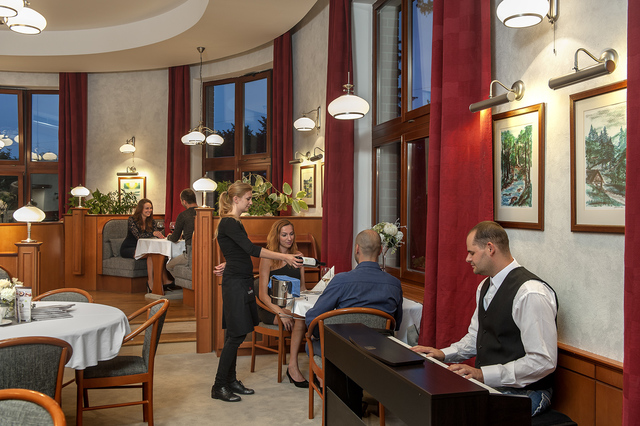 Special offer:
from 7 400 Kč
Romantic weekend with half-board and wellness services. The price is for two people in a double room.
Accommodation for 3 days / 2 nights in a double room;
2 x two-course dinners with drink;
1 x massage of back or neck for each person given by a blind masseur;
1 x private rental of the sauna for 90 minutes;
Time unlimited stay in the wellness centre with the indoor stainless swimming pool and the whirlpool at the time given for hotel guests;
Welcome drink;
Welcome present;
2 breakfasts in a buffet style in the hotel restaurant;
Hire of bathrobes free of charge;
Lockable parking on site free of charge;
Wi-Fi free of charge;
15% discount on BR Sport Centre services.

SPECIAL OFFER: Prolong your weekend by 1 night with a discount of 10%.
An accommodation fee of 4 CZK/person/night will be added to the price.
Reservations of private rentals and massages must be made upon stay booking.
The price per package in a double room is 7 400 CZK (original rack rate 9 710 CZK) and in a luxurious Panorama Suite 10 900 CZK (original rack rate 14 110 CZK).
The price is for two people, it is valid from 1.1.2019 to 17.12.2019 and includes 15% VAT. In case the masseur or in case of interest is not present the package will include private stay in the sauna for 90 minutes instead of massages. Masseur will not be present at the hotel on the dates written on the page with massages.